Medical coding and billing is a field in the healthcare industry, where an individual need not spend years learning in school and yet master his skills in it. You will find them in various healthcare settings such as doctors' dispensaries, private or public hospitals, dental practices, pharmacies, laboratories, etc. Playing an important part in the healthcare industry, you will also get Medical coding and billing specialists running their own business. Medical coders ensure accurate analysis of patient diagnosis as well as about its procedures whereas medical billing ensure that insurance agencies, providers of workers' compensation, Medicare and Medicaid timely receive patient reimbursement forms. You will find many of them skilled in both areas as medical coding and billing.
Medical coding and medical billing are used interchangeably but refer to different things. A medical coder abstracts and assigns the right codes for claims. To accomplish this, the coder will check data such as doctor's notes, lab test records, imaging study requests, and other sources of information. Once the coder has gathered all the necessary information, the coder assigns the appropriate codes.
Medical billers take the codes provided by coders and enter them into billing software, submit the claim, and follow up on it to ensure that it is paid. Coders and billers work closely together and are essential to the revenue stream of a health care provider.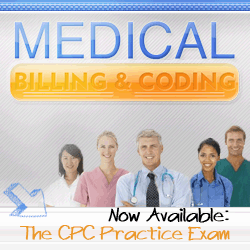 Medical coding
Also referred as medical analysis is a process where for medical procedures and diagnosis specify its universal codes in alphanumeric or numeric form. Medical coders refer to patient's medical record available in department, lab technology reports as well as doctor's report for determination of procedures and diagnosis to be coded. Coders track down details of injuries or diseases and procedures adopted for the treatment given to patients. Medical codes are used on reimbursement claim forms to be submitted to insurance agencies, on diagnostic request forms and Medicare and Medicaid for the payment of applications. It is also used for internal facilities for healthcare service provider for the purpose of research as well as marketing.
By enrolling in medical coding classes, and getting the training and certification necessary to work as a medical coding professional, job seekers can find a steady source of work providing a real income.
Medical billing
Medical billing is a process handled by medical billing specialist who represents claims to health insurance agencies to confirm reimbursement to a patient for the services provided by a healthcare service provider. They also follow up and deal with problematic issues of patients on unpaid claims with insurance agencies, Medicare and Medicaid. Medical billing process remains same regardless of whether the insurance company is privately owned or is owned by the government.
Qualifications of medical billing and coding specialist
In the healthcare industry, the profession of medical coding and billing specialists is heavily in demand. Medical billing specialists with a Bachelor's degree in health information management or equivalent are placed higher at management positions, though they may not possess substantial practical knowledge or experience. You will also find the medical coding and billing specialists who possess a relevant diploma course or a certificate.
HIPAA
It is essential for a medical billing specialist to have detail knowledge and understanding of HIPPA an abbreviation of Health Insurance Portability and Accountability Act for which they also receive training. The act protects patient health information privacy whether it is in spoken, written or in electronic form and can adversely affect many levels working in the healthcare industry.
As the requirements for highly detailed records of medical treatments and services for patients and had increasingly being required by insurance companies and medical centers as well as health-care agencies, the demand for medical coding and billing experts have grown tremendously in the medical world to handle such complexities and detailed work.
With the advancement of skill-sets and professionalism in this field, and together with the latest modern technology used to invent new and more advanced medicine, antidote and antibody, indirectly the demand for medical coders and billers get to increase as well because of the extended aging life of humankind and the baby boom century that significantly increase the world population by more than double-fold today.
Medical coding knowledge and expertise had become a highly competitive and valuable skill-set to obtain because medical coding has become so specialized and complex nowadays that without the necessary tutoring and classes provided by the tutors, along with the extensive training provided by the learning centers or universities, anyone will find it rather difficult to get through any of the medical coding and billing examinations successfully.
Certification in coding and billing allows any medical coders to instill the right kind of knowledge in medical coding and billing and enable them to demonstrate these skills swiftly. Even for those without any working experience, any graduates with medical coding and billing certification are qualified to ask for a higher pay and benefits compared to those without the necessary credentials. This observation has obviously proved that certifications are very important to any medical coders and billers.
Not only are certifications offered by schools and universities offering these medical programs to their students who wish to be an excellent medical coder in the future; nowadays, there are a lot of health-care centers and hospitals which have been proactively and consistently providing useful and relevant certification programs to their medical staffs. Additional certifications in some of the related medical specialty fields are available for medical coders who are already working in this field for certain years. These other certifications are necessary to continuously brush up the necessary skill-sets for those medical coders whom may have earned their medical coding and billing certifications many years back.
Also graduates enrolling for the coding and billing programs will find themselves being equipped with many sub-classes beside focusing on medical coding and billing such as: Polishing their writing skills, improvement in interpersonal communication, to be computer savvy and also to take up additional courses in Biology, medical care, pharmacology, anatomy, psychology and many more. These sub-classes are essential for the intangible benefits which they will bring to the medical coder and biller in time to come, especially when they venture into the real world.
For more information about medical coding and billing certification training and the CPC exam preparation, please click here.
Related:
Source: